Features of Kagoshima

Sakurajima

Sakurajima is formed by active volcanoes, and started erupting as a submarine volcano in Kagoshima Bay 26,000 years ago.

(the active volcano rank A*)


It is a comparatively- new volcano geologically. The novelty as a mountain, the number of frequent eruptions, and the fact that it has been erupting actively, make

Sakurajima a world-famous active volcano as well as helping scientific investigations.
*What is the active volcano rank?

13 active volcanoes in Japan rank as type A (volcanoes which have erupted in the last 100 years or have an especially high activity factor in the last 10,000 years), and Sakurajima is one of them. Here, "active volcanoes" are volcanoes that have been active with fumarolic activity and have erupted within the past 10,000 years roughly. (As of 2012, there are 110 active volcanoes in Japan).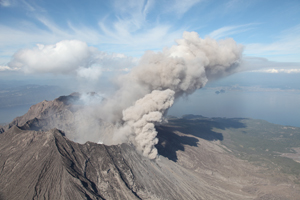 Elevation: 1117 m.
Composite volcano.(the active volcano rank A*)
The mountain is located in Kink? Bay and is approximately 12 km along the east-west axis, approximately 10 km along the north-south axis, and approximately 55 km in girth. The surface of this volcanic peninsula is approximately 77 km².
Sakurajima volcanic eruptions

In 2011, Sakurajima

erupted explosively 996 times in a year

, the largest number ever since monitoring was started.
The number of explosions from Sakurajima
Features of Kagoshima's climate

Kagoshima is located in the southernmost tip of Japan's mainland. It is warm in the winter, has long daylight hours even though it experiences a large amount rainfall in the summer. (high temperature and humidity). However, the Satsuma Peninsula, along the East China Sea, which is the eastern part of Kagoshima, occasionally experiences a severe cold, influenced by cold air from the continent.
It has a regular acid atmosphere caused by surrounding volcanoes such as Sakurajima and the Kirishima mountain range.
We have put this characteristic environment to use for weathering testing.
Annual UV value
Annual average temp.
Annual rainfall